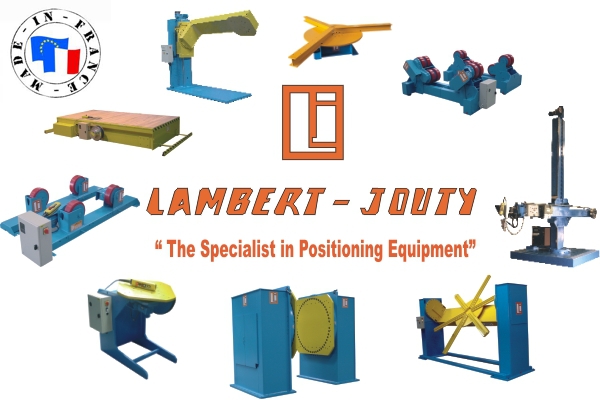 For more than 40 years, Lambert-Jouty is the specialist for the design and the realization of heavy equipment in positioning and handling on the ground, such as conventional turning rollers and self aligning turning rollers, positioners 2 axes or with 3rd hydraulic axis, positioners with square or supports, manipulators with fixed or adjustable height, turning table, welding column & boom, clamping rings, joggling machines, transfer carriages. 
Our equipment largely allows a gain of productivity by facilitating the operations of turning or setting in position in space, while improving safety, specially if the parts carried out by our customers are heavy and/or voluminus. 
Our machines have many applications in industry :
– in boilermaking and welding industry : energy (nuclear, oil, wind), transport (railway, road, aeronautical), chemistry (exchangers, towers of distillation), the agro-alimentary (tanks, engines, fermenters), the farm equipment or of public works
– in storage (cisterns, separators, tanks)
– in assembly, setting, control (pumps, valves, farm equipment, public works, trailers weight-heavy, rotors of alternator)
– in surface treatment (metallization, sanding, shot-blasting, painting)
– out of peripherals robotics (complementary axis to robot, positioning of part)
Our range of standard equipment answers many applications. But Lambert-Jouty adapts and develops also equipment personalized according to the customer requirements. 
Our standard range is composed primarily of :
– turning rollers from 6 to 2000 t capacity
– positioners of 650 kg to 100 t capacity
– square positioners of 650 kg to 10 t
– cradle positioners of 5 to 240 t
– manipulators of 2,5 at 320 t
– manipulators with adjustable height of 5 to 50 t
– turning table of 1 to 250 t
– transfer carriages of 5 to 160 t
– column & boom of 2,5 x 2 to 9 x 7 m
Example of special equipment :
– fitting sections for the clamping and the welding of conical masts of windmill
– portal for robots of welding with associated positioners
– clamping rings and lines for the assembly and the welding of tanks
– joggling machines for vessels and funds
– reversal machine (masts, frame, alternator shafts)
– stations of welding.